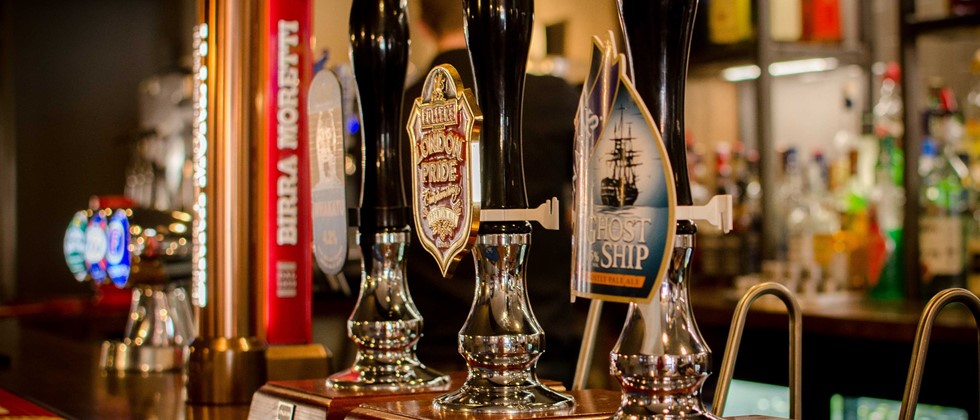 Drinks
Beer
Birra Moretti
, Heineken
(4.6%)
Birra Moretti is a quality beer made in the traditional way. It is the result of a production process that has remained almost unchanged since 1859.
Beer
Fosters
, Heineken
(4.0%)
A pleasant, fruity, lighter-styled quaffing lager
Beer
Ghost Ship
, Adnams Southwold
(4.5%)
Ghost Ship is inspired by one of Adnams' most haunted pubs in one of the UK's most haunted villages, the Bell at Walberswick. The shores of Walberswick are littered with eerie wrecks of smuggling ships from a bygone era
Beer
Guinness
,
(4.1%)
Guinness is the classic stout. A smooth and refined Irish taste that has been a household name since it's creation in 1759
Beer
John Smiths Extra Smooth
, John Smith's Brewery
(3.6%)
John Smith's Extra Smooth was launched in 1993 and is now the nation's number 1 ale.
Beer
Kronenbourg 1664
, Heineken
(5.0%)
Kronenbourg 1664 is a lager with a noble history, characterized by its fine taste. Its golden hues and delicate bitterness come from selecting the best hops (the Strisselspalt), and the unique know-how of one of the French master brewers.
Beer
London Pride
, Fullers
(4.1%)
In recent years its popularity has grown to the extent that it is now Britain's leading premium ale: a welcome fixture in many pubs and off licences around the country, and now winning new friends abroad.
Cider
Strongbow Cloudy Apple
, Heineken
(4.5%)
Crafted in Herefordshire with our unique blend of British bittersweet cider apples, Strongbow Cloudy Apple is our fresh new take on traditional cloudy cider.
Cider
Strongbow Dark fruits
, Heineken
(4%)
Crisp apple cider combined with a refreshing blend of Dark Fruit, delivering Strongbow's signature cut-through refreshment.